CALL US TODAY!
1.573.302.7211
MISSOURI TRACTOR-TRAILER ACCIDENT ATTORNEYS – NEW
GOVERNMENT STUDY FINDS THAT DRIVER FATIGUE AND DRIVER
DISTRACTIONS (SUCH AS CELL PHONES AND TEXTING) ARE THE
CAUSE OF THE MAJORITY OF FATAL AND INJURY ACCIDENTS

With more than 3,000 deaths and 30,000 injuries resulting from accidents involving semi-trucks, 18-wheelers, tractor trailers and other commercial vehicles in the U.S. each year, someone is killed or hurt by a truck collision every 16 minutes.
Due to the sheer size and weight of tractor trailer trucks, most collisions with smaller vehicles result in serious injuries or fatalities. These trucks are insured by commercial policies and require a different legal approach than you would use on a typical auto accident.
Rhonda – Lebanon, MO


"My husband was seriously injured in a tractor trailer accident. We called several of the advertising firms out of Springfield. We even hired one. After a year of doing nothing on our case my aunt recommended Tim to me. Tim took over the case and within a few months had found evidence which got us a settlement. I don't know what we would have done if we hadn't gone to see Tim."
About 700 heavy truck drivers and passengers in truck cabs die each year. In addition, almost 3,700 persons in cars and other passenger vehicles die annually in collisions with heavy trucks. The U.S. Department of Transportation has stated that 86% of people killed and 77% of people injured in a trucking accident are in a non-commercial vehicle. Because of the large size of trucks and the significant size difference between trucks and other vehicles on the road, trucking accidents can involve catastrophic injuries.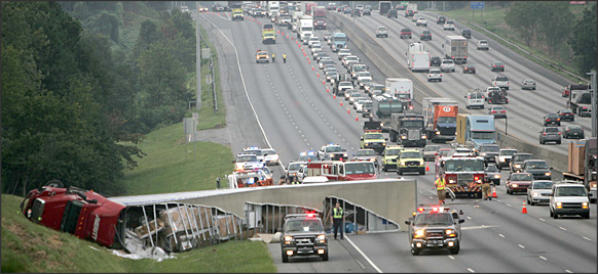 Trucking accidents can be caused by many different factors, including:
Defects in the Truck

Unqualified Truck Drivers

Fatigued Truck Drivers

Faulty Equipment and Maintenance

Overloaded Trailers
Most tractor trailer accidents are not really "accidents." Most are caused by careless choice made by over the road truckers. Truck drivers are required to drive thousands of miles and meet tight delivery deadlines. This leads to truck driver fatigue and reckless driving. Tractor-trailer crashes can also be caused by what are called "no-zones", which are large blind spots in the rear, side and front of the truck.
Big-rig trucks also need a longer stopping distance to be safe and more room to make wide turns. When accidents involving tractor-trailers occur, the commercial insurance companies are quick to send representatives to the scene in an attempt to mitigate responsibility. This is when tractor trailer injury victims are most vulnerable.
Contact an experienced tractor-trailer accident lawyer immediately. Our team of experienced trial lawyers will work quickly to preserve evidence, gather witness statements and protect your rights. At the McDuffey & Medcalf Law Firm, LLC, we are experienced in handling tractor-trailer accidents and can get you the compensation you are entitled to.