CALL US TODAY!
1.573.302.7211
BOATING ACCIDENT ATTORNEYS – LAKE OF THE OZARKS RANKED AS
THE MOST DANGEROUS LAKE IN THE NATION FOR BOATING ACCIDENTS

It is such a treat to be able to escape from your daily routine and get out on the Lake of the Ozarks. Boating is a fun sport and hobby, but the truth is that boats are just as dangerous as any other type of motor vehicle. Unfortunately, many do not take their responsibility on the water as seriously as they should.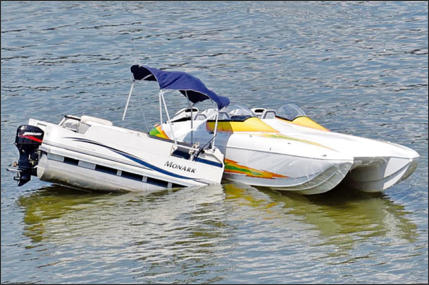 The Lake of the Ozarks ranks first in the nation for boating accidents. The four primary factors resulting in boating accidents are operator negligence, inexperience, excessive speed and alcohol. Any injury that occurs on or is involved with a boat, Wave Runner, Jet Ski or cruiser is considered a boating accident. Our attorneys have experience navigating the complex legal system involving waterway laws.
The law prohibits negligent operation of a boat in any way. Negligence may take place in many ways including high speeds, alcohol use, driving near swimmers, operating the vessel in unsafe weather and many others. Reckless acts of boat operators can result in the loss of life, bodily harm or damaged property.
Nora – Lake Ozark, MO


"Tim McDuffey won my accident case for 1 Million, Thank God my mother in law found him, he is truly an honorable Attorney, and it shows thru his work, he made sure all my bills were paid, so I did not have to deal with creditors, he would always listen to my concerns and worries with a gentle heart, he truly takes his cases to heart, not only was he my accident attorney, but my disability advocate, and to this day 5 years later, he still listens to my concern about disabilities, and advices me on what action to take, Tim you're an amazing Attorney, a loyal friend to talk to, and I think of Tim as a God sent Angel in my life, thanks for your advice 5 years later even though he is not getting paid, he is always there with open ears to rely on, and nowadays you can't rely on much, but I have had the experience with Tim and Michelle, both of them are truly amazing together as a team."
Although you cannot control the decisions others make on the water, you can be prepared by wearing a life jacket and doing your part to stay attentive. Also, because of the high number of boating accidents on the Lake of the Ozarks, the Missouri Water Patrol offers safety courses and education for beginner and advanced boaters.
MCDUFFEY & MEDCALF LAW FIRM, LLC HAS EXPERIENCE HANDLING BOATING ACCIDENTS ON THE LAKE OF THE OZARKS
Boating accidents are considered personal injuries – attorneys take a similar approach to boating accidents as they do automobile accidents.
Preserving evidence from these accidents is extremely important and often crucial. Our personal injury lawyers are highly experienced in waterway laws and can to assist you in recovering damages for medical bills, personal property, and pain and suffering.
At the McDuffey & Medcalf Law Firm, LLC we will be with you each step of the way. We advise that you see specialist to determine the extent of your injuries as many go injuries go undetected initially.
At the McDuffey & Medcalf Law Firm, LLC, we have experience handling boat accident cases and have tried numerous cases to successful conclusion. Contact us today for your free case consultation.